27 December 2014
Claude Frank: A Remembrance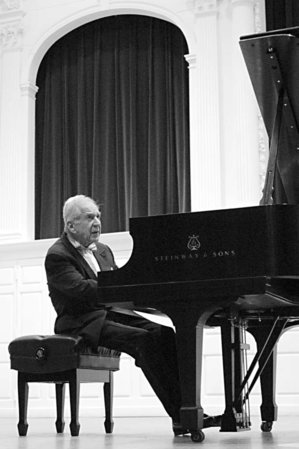 I met Claude Frank when I was 23, and starting the Master's program at the Yale School of Music. He was 75. I had come to Yale deeply uncertain about pursuing a career in music. Mr. Frank was a legendary figure at Yale, having taught there for decades. I don't remember what I played (maybe Schumann's Waldszenen?), but his reaction is seared in my memory: "Beautiful," he said, with a far-away look in his eyes. After a pause, he continued, this time speaking directly to me: "But it could be MORE beautiful."

This was Claude Frank's approach to playing the piano, to music, to life. He radiated a love of not only all that was beautiful, but all that had the potential to be beautiful. Right away, in that first lesson, I truly felt that he believed I was in the latter category. Our lessons became inspirational searches for the towering beauty present in Bach, Mozart, Beethoven, Schubert, Brahms, and through those endless searches we would find the potential for beauty in ourselves.

When he played, he embodied the very essence of the music he was playing to a degree that I had never heard before and have not heard since. Some of the best playing I have heard in my life came from his short, casual demonstrations of passages in works I was studying (I am still trying to figure out exactly HOW he played those sforzandos in the opening theme of the third movement of Beethoven's Third Piano Concerto so perfectly; a demonstration of the opening of Brahms' Intermezzo Op. 116 no. 4 on an out-of-tune grand at Ravina's Steans Institute brought tears to my eyes). In turn, he was deeply affected by others' performances of great music – a Schubertiade at Boris Berman's house visibly shook Mr. Frank, especially after we all chose the slowest, most depressing Schubert lieder to sing and play.

Mr. Frank always said to us "Great music is better than it can be played." Those words, as well as his comments about beauty, continually inspire me in my playing and teaching, and to a large degree are responsible for the path I have followed over the past decade. However, hearing Mr. Frank play Schubert's last piano sonata, or Beethoven Op. 109, or the Schumann Arabeske, it is hard to imagine great music being played any better.

We will miss him dearly.